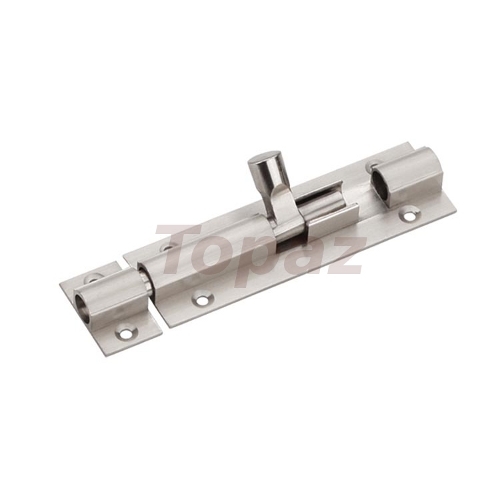 Product Description
We are efficiently meeting the requirements of numerous customers across the nation by manufacturing and supplying a wide range of Brass Tower Bolt. These bolts are manufactured by our expert manpower using finest quality brass materials, sourced from the most reliable vendors. The bolts are made available for the clients in different sizes, designs and finishing as per the requirements. For protection against rust we coat the Brass Tower Bolt using anti corrosive materials.
Usage Of Tower Bolt : Window, Door & Others
Materials : Brass

Finish Available as per below.

Brass Polish
Chromium Plating
Satin Steel Finish
Satin Lacquer
Antique Brass
Antique Copper
Antique Black

Size Available


Size Available
Product Code
Inch
(Rod X Length)
MM
(Rod X Length)


Product Code
Inch
(Rod X Length)
MM
(Rod X Length)
BT1
¼'' x 2"
6 x 50


BT20
2/5" x 4"
10 x 100
BT2
¼''x2.1/2''
6 x 63


BT21
2/5'' x 6"
10 x 150
BT3
¼" x 3"
6 x 75


BT22
2/5" x 8"
10 x200
BT4
¼'' x 4"
6 x 100


BT23
2/5'' x 10"
10 x 250




BT24
2/5"x 12''
10 x 300
BT5
5/16'' x 2"
8 x 50


BT25
2/5" x 15"
10 x 375
BT6
5/16"x 2.1/2"
8 x 63


BT26
2/5" x 18"
10 x 450
BT7
5/16'' x 3"
8 x 75


BT27
2/5'' x 24"
10 x 600
BT8
5/16" x 4"
8 x 100


BT28
2/5'' x 30"
10 x 750




BT29
2/5'' x 36"
10 x 900
BT9
3/8" x 3"
9 x 75




BT10
3/8"x 4"
9 x 100


BT30
½'' x 4"
12 x 100
BT11
3/8" x 6"
9 x 150


BT31
½'' x 6"
12 x150
BT12
3/8" x 8"
9 x 200


BT32
½'' x 8"
12 x 200
BT13
3/8"x 10"
9 x 250


BT33
½'' x 10"
12 x 250
BT14
3/8" x 12"
9 x 300


BT34
½'' x 12"
12 x 300
BT15
3/8" x 15"
9 x 375


BT35
½" x 15"
12 x 375
BT16
3/8" x 18"
9 x 450


BT36
½" x 18"
12 x 450
BT17
3/8" x 24"
9 x 600


BT37
½'' x 24"
12 x 600
BT18
3/8" x 30"
9 x 750


BT38
½'' x 30"
12 x 750
BT19
3/8" x 36"
9 x 900


BT39
½'' x 36"
12 x 900
Contact Us
Near Oshwal Ice Factory Compound, Ranjitsagar Road, Jamnagar, Gujarat, 361005, India
Phone :+918068341896